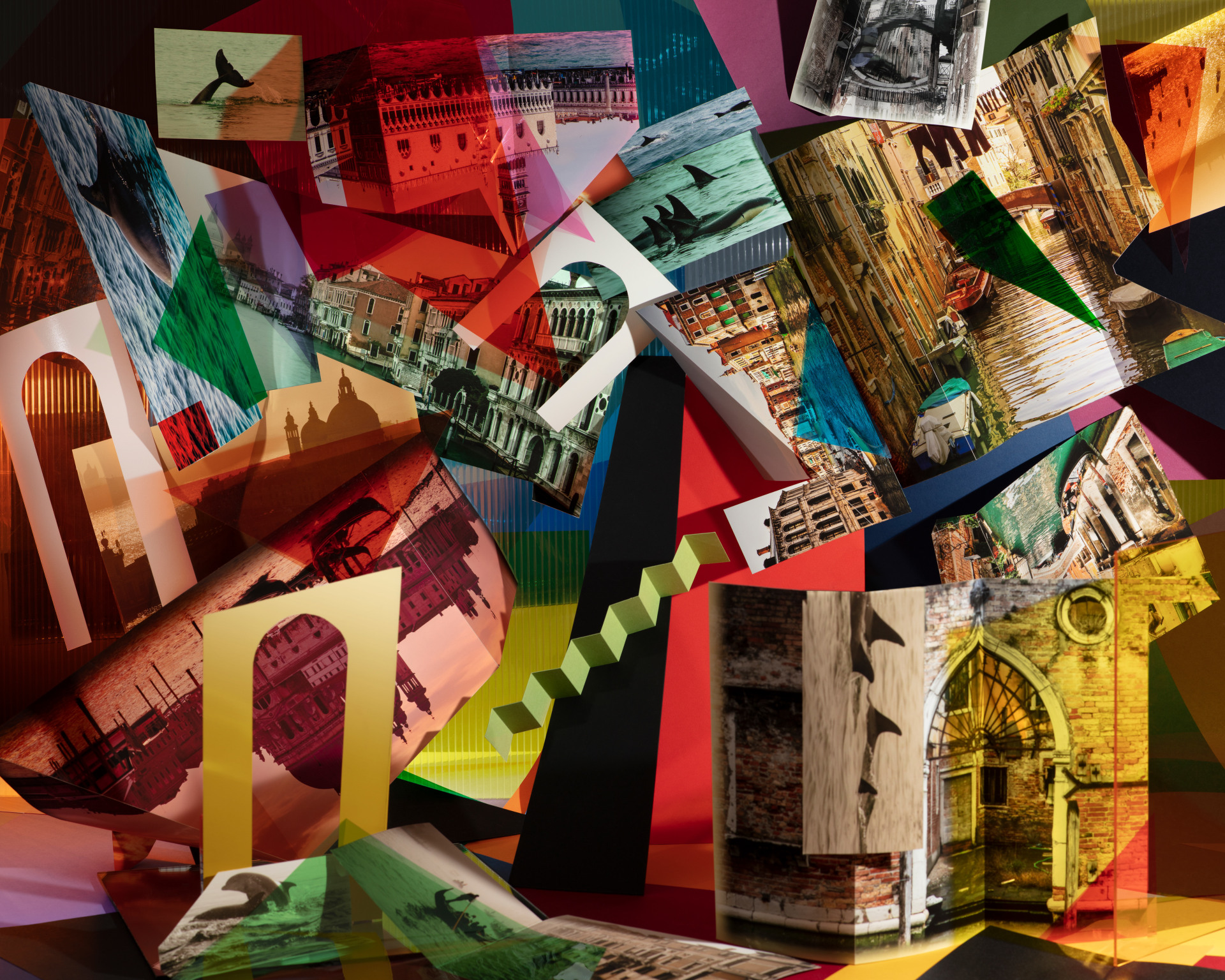 The Artist
Anastasia Samoylova (b. 1984, USSR) is an American artist who moves between observational photography and studio practice.
The Story
When was the last time you did a Google image search for "landscape"? The results will be glorifying images begging to be paired with inspirational quotes. Holiday brochure exaggerations in saturated colors and just-too-perfect light. Conformist and conventional, such depictions are less about real landscapes than the feelings they are meant to evoke. The algorithms of popular taste and fantasy have taken to an extreme those notions of the sublime landscape that took hold in western art in the 18th century.
I search online copyright-free image libraries for various kinds of landscape pictures. Deserts. Glaciers. Tropics. Storms. Forests. Waterfalls. Mountains. These are collated, printed out, cut, folded, assembled as three dimensional studio sculptures, and then re-photographed. From immaterial data, to 2D print, to 3D environment and back to 2D print. The process is largely improvised, built up element by element, much the way we surf the Internet from one image to the next. The results are real world collages taking the form of still life tableau compositions of landscape types. Perspective is shattered in the manner of cubism or constructivism, each image contributing to the larger whole. But look closely and there's also a world of imperfection here. Creases, props, dust, even reflections of the studio in which I work.
The Internet is primarily a picture-based environment with blurred geographical boundaries. My final images are thoroughly international indications of the emerging global order of beauty and landscape. There is something autobiographical in this: I was born in Russia and have lived in several different landscapes across America.
I like the idea that the work can be simultaneously liberated from realistic depiction, yet grounded in the material world. I pursued photography because like no other medium it points to a concrete reality, with its time and space. But, I came into it with the understanding that reality is a construct, and that I can "bend" time and space in one image. With photography you can make up a world and produce a truthful record of it.
From philosophy to Flickr, my interests were formed early on. I was an early adopter of online image sharing back in 2004. Today my photography is a documentation of my process of thinking about images and places. When you go out and see a vast landscape and you take a picture of it, you shrink it to something flat and small. I'm trying to bring it back to life, to enjoy it, and to push it in ways that make it thinkable again.